Rack'N'Roll Pool League & Tournaments

Rack'N'Roll Pool League & Tournaments
Welcome to the league website. Here you will find league results and fixtures, aswell as news about upcoming tournaments and leagues at the Rack'n'Roll Leicester.
News Report
Rack N Roll 9 Ball Tournament April 2019
19/03/19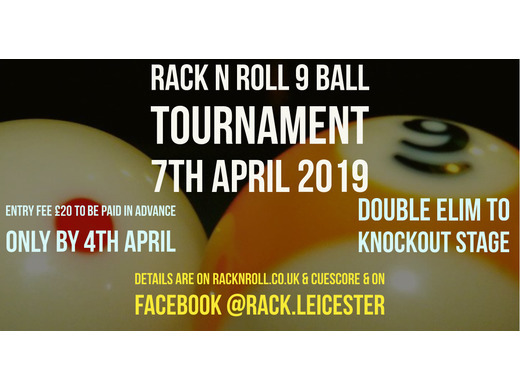 Sunday 7th April I will be running a 9 ball tournament at
the Rack N Roll.
Here is all the information for the tournament. This open to anyone to enter.
Details for Tournament
· Doors open at 11.15am with play starting at 11.30am.
· This is £20 entry fee.
· Spaces secured on a first paid basis, no matter in what order you sign up.
· There will be no refunds once the payment date has passed.
· Entry fees to be paid in advance by Thursday 4th April (Pay in advance only).
· Limited to 32 maximum entries.
· Double elimination to last 16.
· Race to 7 on main/winners/loser's side & last 16/quarter finals
· Race to 9 in the semi-finals and final
· Winner breaks through out.
· Start times will be sent out for first round once the draw has been completed.
The venue is Rack 'n' Roll,
170 Belgrave Gate,
Leicester,
LE1 3XL
If you would like to enter then please contact Keith to
have your name put on the entry list. You can contact me via phone/text for
those with my number, Facebook messenger or email keithw79@live.co.uk
Prize money of tournament based on 32 paid entrants:
Winner = £250
Runner up = £ 130
Semi Final = £70
Quarter Final = £30
Entry list as of 4th April
1. Keith Walkerdine – Entry Paid
2. Kev Simpson – Entry Paid
3. Ian McCormick – Entry Paid
4. Ivo Gulbis – Entry Paid
5. Barry Johnston – Entry Paid
6. Shaun Johnson – Entry Paid
7. Ryan Coton – Entry Paid
8. Benji Buckley – Entry Paid
9. Josh Mowbray – Entry Paid
10. Julian Roper – Entry Paid
11. Apostolos Spanelis – Entry Paid
12. Steve Strawhorn – Entry Paid
13. John Chapman – Entry Paid
14. Michael Levick – Entry Paid
15. Darren Saxby – Entry Paid
16. Chris Patient – Entry Paid
17. Elliott Sanderson – Entry Paid
18. Jonny Callaghan –
Follow the site to get the latest news and results straight to your email
Contact List
Keith Walkerdine
Keithw79@live.co.uk

Weather

11 MPH ESE
87% humidity
Tue

16°C
9°C
Wed

13°C
8°C
Thu

11°C
7°C
Fri

11°C
5°C