Rack'N'Roll Pool League & Tournaments

Rack'N'Roll Pool League & Tournaments
Welcome to the league website. Here you will find league results and fixtures, aswell as news about upcoming tournaments and leagues at the Rack'n'Roll Leicester.
News Report
In-house 9 Ball Handicap Tournament Series Event 3
09/04/19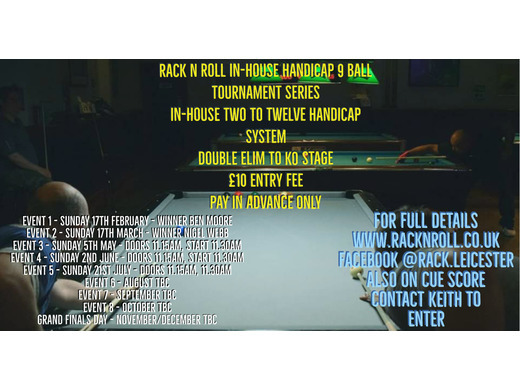 Sunday 5th May there will be the Rack N Roll In-House 9
Ball Handicap Series Event 3.
Here is all the information for the tournament.
Details for Tournament
· Doors open at 11.15am with play starting at 11.30am.
· This is £10 entry fee. Pay in advance.
· Spaces secured on a first paid basis, no matter in what order you sign up.
· There will be no refunds once the payment date has passed.
· Limited to 32 maximum entries.
· In-house handicap system of two to twelve.

· Double elimination to last 16 (if 25 to 32 players). Subject to change depending on final number of entrants if 24 and less
· Races subject to the handicaps.
· Winner breaks through out.
The venue is Rack 'n' Roll,
170 Belgrave Gate,
Leicester,
LE1 3XL
If you would like to enter then please contact Keith to
have your name put on the entry list. You can contact me via text 07917607276, Facebook
messenger or email keithw79@live.co.uk
Entry list as of 2nd May
1. Keith Walkerdine – Entry Paid
2. Jake Harman – Entry Paid
3. Ian Welch – Entry Paid
4. Mick Jones – Entry Paid
5. Julian Barber – Entry Paid
6. Aaron Hemmings – Entry Paid
7. Alec Tasker – Entry Paid
8. Apostolos Spanelis – Entry Paid
9. James Bielby – Entry Paid
10. AlvinFiel – Entry Paid
11. Sam Warry – Entry Paid
12. Steve Strawhorn –
13. Nigel Webb –
14. Michael Kearns -
Follow the site to get the latest news and results straight to your email
Contact List
Keith Walkerdine
Keithw79@live.co.uk

Weather

12 MPH SE
71% humidity
Tue

16°C
9°C
Wed

13°C
8°C
Thu

11°C
7°C
Fri

11°C
5°C